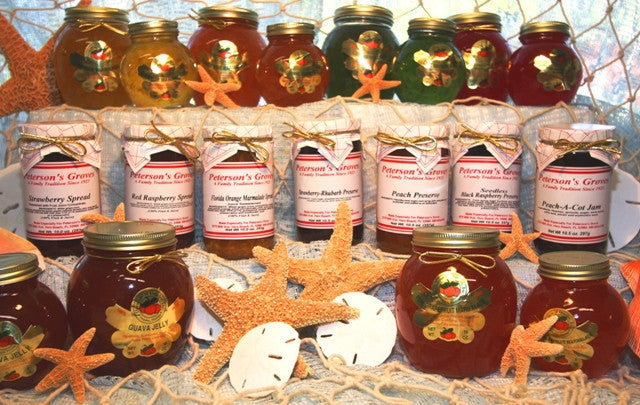 Tropical Jellies & Marmalades
$ 6.50
More of our favorite things! Our jellies, marmalades, butters and no sugar added spreads are some of our most popular items here in our gift shop and now they can be delivered to your door year 'round or added to a fruit shipment at no extra ship charge for an extra special treat!
"PG" indicates products from our Peterson Groves exclusive label.
"NS" indicates "no sugar added" products.
Standard shipping and handling charge of $19.99 will apply to most shipments up to 6 jars (8 oz jars) of any product.  If your order exceeds 6 jars, please call us for a quote on the shipping charge.
If you are placing gift orders to be shipped to multiple addresses,
you may find it easier to place your orders over the phone
while our website is still under construction. 
Our office hours are 9:00 - 5:00 EST Monday - Sunday.