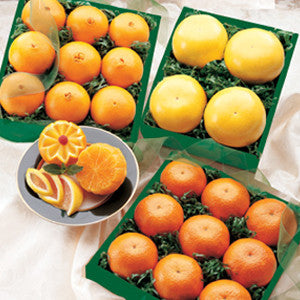 Triple Treat
$ 55.99
Send Them 3 Varieties in 1 Gift
What fun it is to receive the season's juiciest from "sunny Florida."  One tray of perfect, sugar sweet oranges, a second of juicy and seedless Ruby Red Grapefruit, and a third of easy-to-peel tangerines, all in one delicious gift box.
Available mid-November thru mid-April
Add $19.99 per package Shipping & Handling
A gift message to your recipients can be added at checkout.
If you are placing gift orders to be shipped to multiple addresses,
you may find it easier to place your orders over the phone
while our website is still under construction. 
Our office hours are 9:00 - 5:00 EST Monday - Sunday.