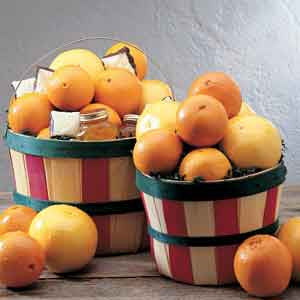 Nostalgic Grove Baskets
$ 49.99
Filled to the Brim With the Pride of the Grove.
Old-time Florida arrives in the shape of these authentic and nostalgic Grove Baskets.  It's filled from bottom to top with the juiciest Oranges and sweet as sugar Ruby Red Grapefruit.  The Deluxe version includes a half pound of Chocolate Coconut Patties, Orange Blossom Honey and Orange Marmalade.
Deluxe Basket available mid-November thru mid-April, Grove Basket available thru May.
Add $19.99 per package Shipping & Handling
A gift message to your recipients can be added at checkout.
If you are placing gift orders to be shipped to multiple addresses,
you may find it easier to place your orders over the phone
while our website is still under construction. 
Our office hours are 9:00 - 5:00 EST Monday - Sunday.